There is a Norwegian saying: "The impossible is not impossible, it will just take a little more time".  In the Alpine national team, we changed it to: "Impossible doesn't need to take more time". 
In this fourth conversation with leaders, Guro A. Johnsen, founder of SheSkillz Global, interviews Jarle Aambø, Founder of Igloo Innovation and former elite sports director for Olympiatoppen. This is a talk about high-performance culture, cooperation, the importance of clustering, gender equality and mentoring.
Jarle Aambø is today the CEO of the Norwegian high-performance cluster, Norwegian Olympic Committee, and the CEO of the Igloo Innovation, a Norwegian innovation center for the sports industry, SHESKILLZGLOBAL has recently joined. Beforehand, Jarle used to be the elite sports director for Olympiatoppen (NOC) and a former coach and Sports director for the National Alpine Team. Jarle knows all about high-performance teams.  Norway is the best winter sports country in the world.
What was the idea behind Igloo innovation and the establishment of the network? 
The Igloo Innovation is based in the world's largest snowdome for ski sports science and fun. There, we wanted to develop a cluster gathering skilled people from the sports industry and sport-related organizations as well as institutions. The objective was to support and emphasize the value of clustering, bringing competencies and innovations together.
When I started to work in the business, I realized that the entrepreneurs' mindset was closest to the top athletes. I was visiting a lot of clusters both in Norway and outside Norway and I saw that these clusters' cultures were also connected to the elite sports culture.  When starting the Igloo Innovation, we really wanted to develop both an entrepreneurial and high-performance culture.
Jarle Aambøs main job is in Norwegian Olympic Committee where he is in charge of Olympiatoppen High Performance Cluster and organize a high-performance conference in Oslo, where businesses, sports, culture, universities, and others are learning from each other. 
We had the vision to implement a high-performance conference with distinct profiles from the society: athletes, scientists, chess players, opera singers, entrepreneurs, and others. I know when bringing different high-performance people together, you have the knowledge but also have inspiration, culture, values, and mindset. The way of thinking is equal when you are on a high national level.
My inspiration for all of this goes back to when I was a coach for the national alpine team in Norway, where we also brought in ballet dancers to get inspiration from other areas. To use diversity in training as a training method.
"Systemizing the high-performance indicators"
Based on the similarity, we started to systemize the high-performance indicators so everyone can learn from this and develop their own culture.  It has been documented by science and research that clustering helps develop the level of the performance. The indicators are discipline, hard work, energy, curiosity, and creativity, an urge/strong will to create something and the willingness to put down the necessary hours. Overall, one can evaluate the desire to create something larger than yourself.
In the last conference we talked about the arena itself and how the digital arena has been affected us in the last two years. What happens when we move from a more physical arena to a digital one? What happens when we go from a national level to an international one?
Under the mentioned indicators, we have around 30 sub-groups of indicators that we also discussed and worked with over the last 8-10 years.
Photo: Private: Jarle Aam bø
What can an Olympic Medalist learn from a person with a Nobel prize and the opposite?
These two people are performing in quite different environments, but their mindset, culture and values are the same. The Nobel prize winner told us, we want to learn from elite athletes and other performers and bring this type of culture and mindset into our science center.
On the opposite, the athletes can learn and be inspired by the knowledge on the highest international scientists. It took them the same hard work, that we can measure with the same performance indicators.  All of them told us that they wanted to be a part of something larger than themselves and that what they are doing counts for the society.
The Igloo Innovation network are so far national. Is accepting SHESKILLZGLOBAL, a Swiss company, in the Igloo network a sign that also the world outside Norway is interesting? 
We are very happy to have an international company in Igloo. Our vision and our goal are together with Snøbyen, (" Snow City") to be an ethic center for the international winter sports industry- and sports industry in general.  We have focused on the Norwegian level in the beginning, but of course we want to expand internationally.
In the Snøbyen there are several international companies. Igloo is also administering an EU project with a British and a Spanish university, the Swedish Olympic Committee, and a Turkish innovation center. We are also helping Norwegian companies to reach the international market. Igloo is an international project and it's good to have SHESKILLZGLOBAL on board to emphasize this.
Another part of clustering is about diversity. We should reflect the society. Everybody should have the same rights and possibilities. Diversity is also a performance indicator. It means we must bring diversity into our project and further into sports. I believe it's key to performing on the international level.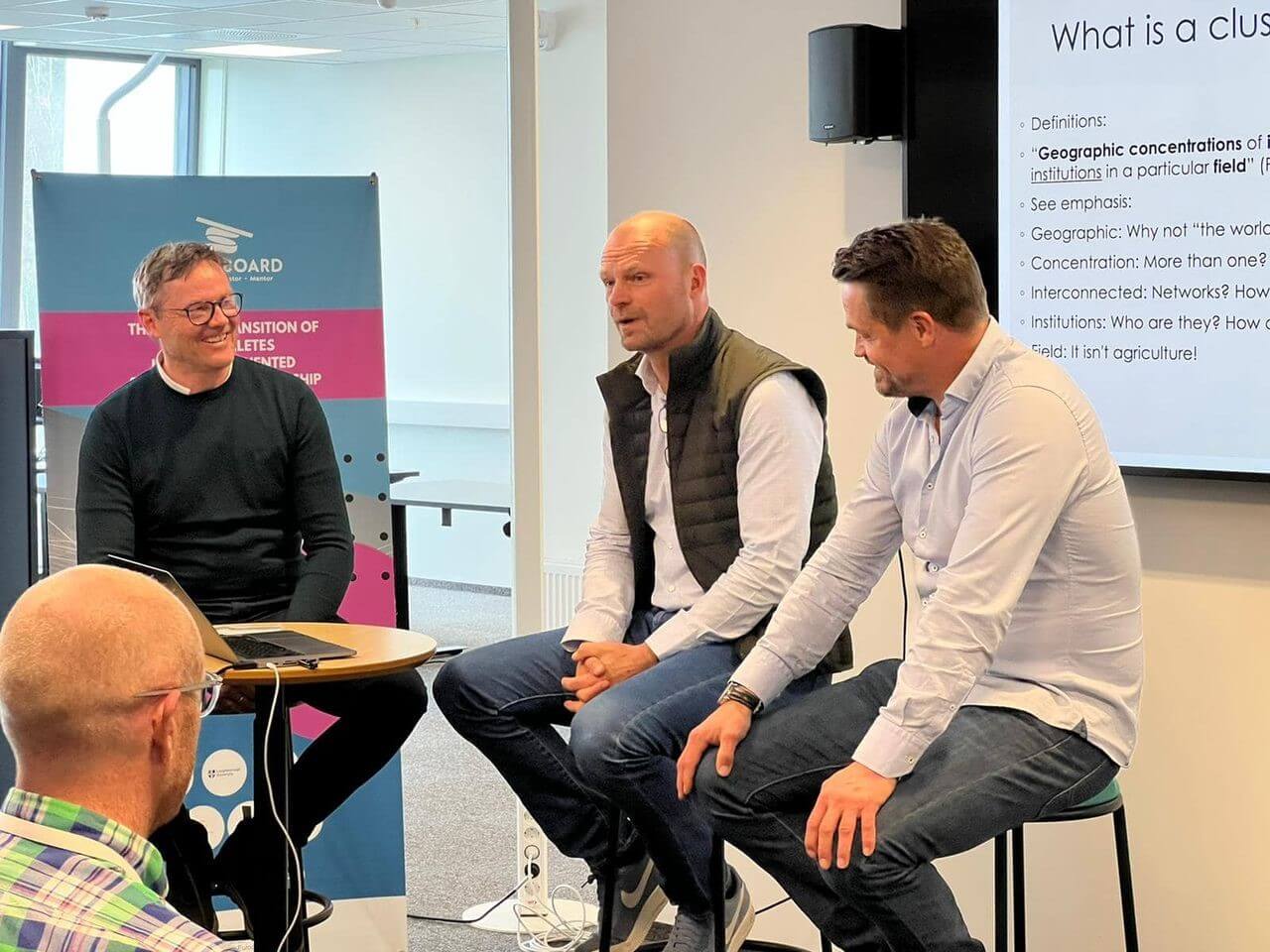 Photo: Private: Jarle Aambø/Igloo Innovation
"We want to promote diversity in the sports industry. "
"Diversity is also a performance indicator"
What you are doing with SHESKILLZGLOBAL, to give equal opportunities for women, is part of the ambition of Igloo Innovation. This goes for the sports, but also for the sports industry. When we try to find entrepreneurs, and start-up companies to join the Igloo Innovation we see that there is a shortage of gender diversity.
We need to work together with SHESKILLZGLOBAL for more equality and diversity in the sports industry. This is one of the reasons that SHESKILLZGLOBAL is a good match for Igloo Innovation.
What are the most important skills needed when being a leader for a high-performance culture?
Leadership in a high-performance environment is not so very different from leadership in a general environment. You work on a more specific topic, but you need to have the same leadership skills.  When mapping the high-performance indicators, we were also talking with different top leaders. 
"Leadership in a high-performance environment is not so very different from leadership in a general environment."
Olympiatoppens «father», our former colleague, Tor Ole Rimegjorde, talked about the 24-hours athlete.  Why is a holistic perspective so important when performing on a high international level?
His philosophy behind that wording is very important. It inspires us daily. This holistic perspective emphasizes the need for a balanced life. You need to have a second life apart from the performing arena. Holistic life is for me the meaning of a 24-hours athlete.
Many people are struggling to have this balanced life because there is so much pressure to train and achieve. To have the best performance and because you have so extreme motivation for training, consequences can be that you sometimes go too far and then lose the balance. To prevent this from happening, we need to work with values and culture. 
In Olympiatoppen you focused on having a gender diverse team and were clear on the importance of this. In this conversation, you have told us that many of the start-ups are male dominated. What can we do together to make a change?
We see from sports organizations that it's not a quick fix. But if you don't have projects then nothing happens. You must be impatient, but at the same time you need to have long term objectives. When you are recruiting people, you have some choices about who you can recruit.
I think there are some concrete things we can do together, we can make projects that focus on gender equality, side projects of what you are already doing with a focus on the sports industry or new projects. 
Changing the entrepreneur spirit, and the business culture, it's also about changing the society. I think we can be stronger and get more speed into the process, by focusing on this.
"Changing the entrepreneur spirit, and the business culture, it's also about changing the society."
You are one of the mentors in SHESKILLZGLOBAL. Your mentee is a part of our cooperation with the International Biathlon Union. She comes from Bosnia and Herzegovina. What does it give you to be one of the mentors?  What have you learned from it so far?
We are still in the beginning of the process. We are getting to know each other. But I have already learned a lot. I knew a little bit about the culture of that part of Europe and its history, but when I met with my mentee I learned more about her background, and how she has developed as a leader. I learned how the culture can be different in distinct countries and organizations. 
I'm learning how international sports federations are evolving. I must catch up and see how they organize, how they are developing, and how they are recruiting people, how they are thinking. All this knowledge I am getting from her also makes me able to ask questions and challenge her using my background in the elite sports. 
I think it's important to establish trust, so she can talk in a secure environment. I'm building safeness in her process because I've been in the sports business for a long time and because I have been in some critical processes and sometimes, I won, sometimes I lost, but I have always learned something. I try to explain to her it's not so difficult, it's about being yourself, you must set up your vision and your goals.
We have chosen to match mentors and mentees over the country border.  What are your thoughts about it?
I think it's great. For me it's the same as the philosophy we had in the elite sports in Norway, to explore other systems. This is again about the diversity, the values and the energy that comes with it when bringing different people together. This is also the reason why I embarked on the project because you are not doing it in the traditional mentor way, where all come from the same business or the same type of organization. If then, she could not have me as a mentor.
I have some values and skills that I know are interesting for her, but it's up to her to choose what she wants to keep for her career. I tell my experiences; I tell my story and what I have learned on my way and hopefully she can pick up something from it she can use it to develop.
Last week was the World Economic Forum (WEF) Conference in Davos, Switzerland.  The WEF report concluded with more than 130 years before gender equality. SHESKILLZGLOBAL has the vision to build "A world where talent has no gender", what does it mean for you?
It means that everyone has a talent and it's very much up to yourself and not gender to decide whether you will meet your goals.
We know from our experience in the elite sports that it's about skills, discipline, spirit, culture, how you cooperate with your teammates and coaches, that you will be able to reach your goals. Talent or potential has always been a no gender issue, but society tends to make it more difficult for women. I think this vision is good to emphasize equal potential.
Most of the participants in this WEF conference, based on the conclusion of the WEF report, have not used their decision-making position and/or represented companies that have not really empowered women. What would you recommend them?
The World Economic Forum statistic reflects the history of these leaders. When they look backward, they can see that the gender equality process was too slow. But it is not these people that will make the future, maybe some of the future leaders were in Davos, this is a new generation with different ideas.
There is a Norwegian saying: "The impossible is not impossible, it will just take a little more time". We changed it in the National Alpine sports to: "Impossible doesn't need to take more time".    
This is also the case with gender equality: the WEF report conclusion of more than 130 years gives the impression that it is impossible to reach, but it won't necessarily take more time because new people are coming in with new ideas, new cultures. I'm convinced that they will prompt gender equality in the world much faster than before.