It's time to treat employees as human beings – not just resources
Higher attrition rates and employee disengagement caused by the global pandemic, demographic changes and digitization, are forcing organizations to make a clearer distinction between human capital, which defines human resources as a means of production, and human development, which considers improving the human condition to be the end goal, as defined by the economist, Mahbub ul Haq and further developed by Dr Bob Aubrey. In a profound shift in thinking, organizations need to start seeing human capital as a component of human development – not the other way around.
The UN's 2022 Human Development report, Uncertain times, unsettled lives. Shaping our future in a transforming world, suggests that organizations should be putting their focus on helping people broaden their choices, follow their aspirations and improve their own well-being in order to improve performance. In today's workplace, employees are expecting more than just being treated as a resource.
This represents a fantastic opportunity to reshape the future of work and to take a fresh new look at the relationship between employer and employee.
Creating a sense of purpose
All organisations publish their values on their websites. They all look good but what do they really mean? It is important to have values that translate into success for employees and the business, in the real world.
Purpose can also become just a buzz word if it doesn't feel realistic to employees. It may sound obvious but if you know why you are waking up every morning, it will have a positive effect on your level of energy and on the organisation as a whole. Purpose is not always easy to nurture – the CEO usually sets the tone but an organization's leaders also have a role by integrating ESG, D&I, employee wellbeing, and company ethics directly into the business strategy rather than relegating them to the sidelines.
Building a People Centric Organisation
Today, the most pressing question at boardroom level is how to find and keep the right kind of people who will work and thrive, who will fit the company's culture and develop into future leaders. The answer is not an easy one but it is clear that the days of managing and developing people in a 'one size fits all' approach is over.
While some are relying on an economic recession to put an end to the era of the 'candidate market' and war for talent; for now, companies have little other choice other than to revisit their value propositions in order to remain attractive,
competitive and continue to be seen as an authentic and human employer of choice in the longer term. They must continue to look at how they can offer more flexible ways of working, review their talent strategy, listen more carefully to the aspirations of their employees and build a safe working environment based on trust rather than control.
Adapting to change based on trusted Relationships
Relationships determine how well people work in groups, how they relate to leaders and how they fill working roles in the organisation.
We need to review the efficiency of our performance management model where we need to find the right balance between performance and care. For example, if you build a culture that primarily focuses on performance you might build an aggressive culture; on the other hand, if you focus too much on caring, you may create a too complacent culture. It's about finding the sweet spot in between and this is where Human Development can play a key role.
What else can be done? We can equip managers and employees to have conversations around development and to express their aspirations; we can create a safe environment for employees; and we can encourage our leaders to think of people as agents, not resources, who self-develop, make decisions and set goals. Organizations need to remember that people are individuals and need to constantly develop skills in their work and in life in order to adapt and cope with change.
From Human Resources to Human Development
To conclude, organizations' values need to align with employees' own set of values, and company goals must evolve to include personal development, human rights and the social good.
Key development indicators (KDIs) should sit alongside business KPIs on company scorecards including criteria such as employee aspirations, learning, self- determination and capabilities.
Finally, let's stop referring to Human Resources and start talking about Human Development. That would be a good start.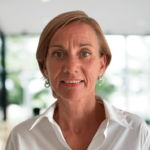 Executive HR and organisation specialist and Sheskillz Global Mentor and investor